SLFNHA is excited to celebrate National Indigenous History Month. In honour of this regions rich Indigenous history, we are shining a light on the history makers from in Northwestern Ontario. Enjoy the stories on each of these trailblazing Indigenous History Makers.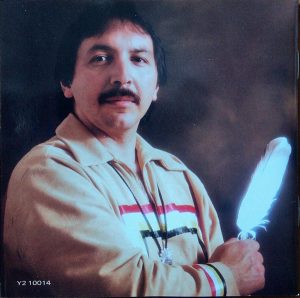 Lawrence Martin
Lawrence Martin was born in Moose Factory, Ontario. He came to Sioux Lookout, Ontario in 1986 where he helped start Wawatay Radio Network and Television. During this time he also became Ontario's first Indigenous mayor when he won the Sioux Lookout Municipal Election in 1991. He is currently the Manager of Feasibility Study for the Mushkegowuk Council. He spoke with Reece Van Breda, SLFNHA's Communications Officer, about his accomplishments.
You were Sioux Lookout's first and only Indigenous Mayor (1991-1994) and first Indigenous person in Ontario ever elected as mayor; What led you to run for Mayor? What was it like running as an Indigenous candidate at the time?
Garnet Angeconeb, at the time, was a councillor leading up to the election in 1991 and he was encouraging Indigenous persons to run for council. After meeting at the friendship centre, we decided to form a task team for running for mayor and I decided to put my name down.
It was fun to campaign, to run and speak to people. We had a live debate, and it was broadcasted over Wawatay Radio for the first time ever.  
The night they were counting the ballots, hanging around the area I could hear my name being called, and I could feel the energy and sure enough I won. It was a great feeling, people putting their trust in me.
What are some achievements that you are most proud of during your time in Sioux Lookout?
The sewer and water treatment plant – my claim to fame! I went all the way to Queen's Park lobbying for funding. We didn't have the capacity to build this water and treatment plant on our own. I was able to get funding to renovate and upgrade the plant to where it is now.
What would you say to Indigenous youth that are interested in community and local politics?
Go for it! Everything I've done has always been "just go for it". I was scared of not having experience, but you have to do it to get experience. If you don't put yourself out there, you won't get experience. How can you get experience if you don't get out of your comfort zone. You won't be able to learn and grow.
You're also a Juno award winning musician! Explain what it was like to be an Indigenous musician and win this award?
I won the JUNO award when I was the Mayor of Sioux Lookout. When I first visited some music producers in Nashville, they didn't like my music. There was one producer who asked for my Cree songs. He said "Wow that's different, Shania Twain and Garth Brooks aren't singing this!". So, I came back to Sioux Lookout and recorded more Cree songs. Later that year I was nominate and won. I didn't know how things would work out, but I just had to go for it!  
How has your Indigenous background influenced or inspired your work?
 It's inspiring to collect stories of our people on the land, water, animals, and insects. I've also appreciated using my Indigenous viewpoint on things while working with the scientists and blending those two knowledge bases.  My connection of knowing the language and my lived experience while having that connection with the people and takes me back to where I grew up – on the land.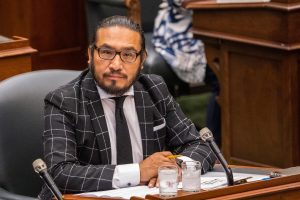 Sol Mamakwa
Sol Mamakwa is a member of the New Democratic Party (NDP) and was elected Member of Provincial Parliament (MPP) for Kiiwetinoong in 2018. Prior to becoming an revered Indigenous politician Sol worked for Nishnawbe Aski Nation (NAN) and served on the board of Sioux Lookout First Nations Health Authority (SLFNHA). Born in the Sioux Lookout Zone Hospital and raised in his community, Kingfisher Lake First Nation, Sol continues to speaks the language, engage in traditional activities and live the traditional way of life.
You are the first member of provincial parliament for the new riding of Kiiwetinoong; What led you to run for MPP?
If you would have asked me in the summer of 2017 if I would run for Ontario parliament, I would have laughed at it. Even when Kiiwetinoong was being created, I would have never thought of running. I say that because I ran from the encouragement of people wanting me to run. I decided to run because of the different people that reached out to me – leaders, community members, etc.
The important part was, at that time, I was focused on health policy – health policy at NAN, and when I think of health I think of the reasons why our people, get sicker and sicker. We must be able to talk about the social determinants of health – water, food security, economic development, etc. When I made the decision to run, I wanted a role where I can talk openly about the area and how I can help as their member of provincial parliament.  
What are some achievements that you are most proud of during your time as MPP?
Currently I am the only person in the Ontario Legislative that is First Nation. I am proud to be able to speak openly about issues facing the North, to be able to speak on lived experiences in a public way, it is very important to be able to do that. We need to speak about these topics.
Raising awareness of the issues that we, Indigenous people, face in the far North of Ontario – housing, suicide, house fires – I can raise these challenges up on the provincial level. Travelling and speaking with elders, that is moving to me. That is important for me to do.
I got elected in a very difficult time – COVID, moving forward with Truth & Reconciliation. With the heckling that goes back and forth, I am not attacking when I speak on these very serious topics and stories. I have been able to keep up for the past 5 years where the opposition nor the government cannot heckle me, because I am speaking on these important cultural issues.  
What would you say to Indigenous youth that are interested in provincial and federal politics?
I think it's important to understand how legislation and laws are created. It's important that Indigenous youth get involved not just with federal and provincial politics, but also on a municipal level. There are so many leaders in our First Nation communities and we must follow what's going on with First Nation politicians and pay attention to what they are saying and speaking on.
There is no small change – write a letter, be involved, there is always something to do. For example, there is no postage to send a letter to my office. Send me a letter and I can help raise your issues on a provincial level.
We need the youth voice, the youth matter. We see youth are going through many mental health issues and they are the only ones to provide that voice to push for change. Sometimes the decisions we make, we don't know how it impacts the youth, that's why we need the youth to speak up.
How has your time on the Board of Directors at SLFNHA helped your work now?
I did the switch over in my career in the mid 2000s. Originally, I was the education director for Kingfisher Lake and I moved to Tribal Council on education and did a big switch over to health, it was a learning curve. I had to ask a lot of questions. As the health director at Shibogama I was appointed to the Board of Directors at SLFNHA. Because I was so new at health, I had to ask a lot of questions and learn.
You learn from asking questions – many roles and responsibilities were appointed to me at SLFNHA that I had to learn. They had to have the confidence in me to have the board and governance roles to address numerous issues in health that we were facing in the north. SLFNHA played a huge role in me running for MPP because I understood the provincial and federal side of health care. This is where I started to understand the system for First Nations in terms of provisions of health services. The system appears broken, but when I started to think about it more, the system is not broken, it's working as it's designed to do – oppression and colonialism. It is designed that way on purpose. Strategically underfunded with fiscally driven decisions.
What do you see for the future of health care in the north?
I think there should be no wrong approach to health care in the north. My vision is that when you book an appointment, First Nations people can provide our services in our own language and culture all the way through. Cultural sensitivity is key with First Nations persons leading and providing the service all the way through and when you return to your community, and it's our people providing health services.
Bringing services closer to home – First Nations should have the power to make their own decisions on health care – not federal and provincial governments. We make our own decisions overall and I think once we do that, we can achieve the best health care system in Ontario – not only that, but the best healthcare system in Canada. That's my hope and vision for healthcare in the north.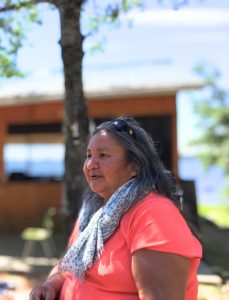 Lydia Sherman
Tell us about yourself; where are you from and how did you get started?
My name is Lydia Sherman. I live in Sioux Lookout. I'm originally from North Caribou/Weagmow (Round) Lake. My husband and I have three boys. My late dad was a trapper and fisherman. He also ran a small store and was later in a leadership role. My late mom, stayed home and cared for her family in the home.
I've worked in the Social/Mental Health field for thirty plus years inclusive and in different capacities. In between, I left twice for short periods of time from Nodin, to work in other fields. Worked with Tikinagan Child & Family Services, in Child Protection as Family Service Worker 4 plus years. And with Keewaytinook Chiefs, as a, Residential Support Worker, 3.5 + years. 
With SLFNHA, I was the Trauma Team and Children's Mental Health & Addictions worker.  
In the early 1980's, I started working with mental health (Nodin) at the old Zone Hospital, then at that time. Prior, in the early 70's, there had been four or five non-native mental health counsellors that had worked there. Sometime, in the early 1980's. It was determined, there was a need for First Nations, Mental Health counsellors, who would know their language and culture. At that time there was four or five, that worked at Mental Health. As time went on numbers grew of First Nations Mental Health Counsellors.
We worked along side with nurses, physicians and psychiatrists, Art Therapist and three Elders (two female and one male), we travelled and flew up north, in a small four-seater Cessna, to a much smaller communities to provide Mental Health support and services for a week.
Being and working up North was challenging (sometimes no running water & electricity). Being very close proximity to nature and my people (s) was refreshing. Our accommodation was a small one room cabin, sometimes with a partition. No running water or electricity. But I remembered I grew up with no conveniences like that, I reflected on my parents' teachings.
Sometimes, we travelled with a psychiatrist and assisted in interpreting and translating. Sometimes, there was a nurse in the community, sometimes not.  There were training in various Mental Health aspects of this work, was initiated and provided Mental Health clinical staff and by psychiatry.
Three Elders assisted in teaching, supporting, and guiding in the work and in the culture aspect.
How did Nodin Mental Health Services come to be?
In the late 1980's, an Elder working in Mental Health named "Nodin".  "Nodin', means, Wind, in our language.  He gave an example, why he wanted to name it, "Nodin". 
He said, we cannot see, Nodin. Sometimes we hear and see the effects of the, wind/Nodin. He said something to that aspect. We will see and work with our people. We cannot see their emotions and feelings. Sometimes we won't or don't know their feelings and thots. Until they share those feelings and thots. It's going to time and it's a process.
Sometime in the early 1990's, some children, youth and families were accessing services to Nodin CFI. It seemed there was a need to provide services to children, youth, and families. Around that time, Nodin Children, Family services name came to be. 
What would you say to new workers in the childcare and mental health care?
Elder's teachings, this is their time and not your time.
Listen. Take time. Be patient.
Traumatic events took place within our First Nations peoples. Which has resulted and impacted in, Intergenerational Trauma, in the past, present and future. Through my work, I've used the tool called the, "Wholeness Approach". Involving the Physical (body), Emotion (feelings), Mind (thoughts), Spiritual (beliefs.)  Sometimes, these overlap when you help the individual.
Sometimes, it's therapeutic to access nature and sit by a river, lake, watch the sunset with the individual, who's reaching out.
How have you seen Nodin grow over the years?
Nodin has grown vastly in the last thirty years.  Providing various Programs and Services to the North. And has taken positive strides in reaching out to the northern communities and has greatly implemented services and programs to all ages.  
When I was young, my late parents told me I would go to school and work with people with diverse backgrounds and taught me to respect people of whatever background they come from and not to think high of myself.
I feel honoured, to have worked with Nodin, in the past and out in the field, and to have reached out and help our First Nations people. I feel honoured to have worked with First Nations colleagues and colleagues of diverse backgrounds. Who are also caring people. There's strength in numbers.
To the workers in the field. Listen, be patient, advocate, access cultural appropriate services, and teamwork. Remember to do self-check and self-care, and take a breather.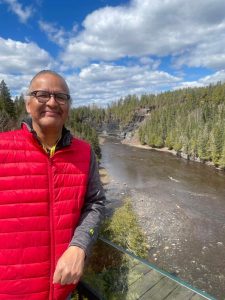 Randy White
Randy White is an award-winning musician and a Cultural Clinician in Keewatin, Ontario. His Anishinaabe name is Kebeyaasang belong and belongs to the Bizhew (Lynx) clan from the community of Naotkemgwanning (Whitefish Bay) situated on the shores of Lake of the Woods in Treaty 3 territory. Randy holds a Masters degree in counselling Psychology and a member of the Ontario
College of Psychotherapists and is married with two children. Here is his interview with Reece Van Breda, SLFNHA Communications Officer.
You are an award-winning musician with your drum group – how has music contributed to your upbringing?
As most of us may or may not be aware, traditional First Nations song and dance was not widely practiced, especially with young First Nations people during the 40's on to the 70's. The community elders of Whitefish Bay seen this, and in order to preserve, reclaim and rejuvenate First Nation song and dance, the elders directed that a drum be created. They invited the young men of the community to begin learning the songs and teachings of the Anishinaabe. From here the Whitefish Bay singers began travelling a path that we continue to this day. As an original singer of the group, I believed that the drum has kept me close to the life of the Anishinaabe during my upbringing. It made me realize the foresight of the elders and their kindness in bringing hope to the future generations.
What are some achievements that you are most proud of?
That we are still doing what we love doing, singing. That people will still listen to. We are continually travelling to other parts of Turtle Island, learning from others and sharing our experiences. Being a part of Pow Wows and ceremonies is such a gratifying way of life.
What would you say to Indigenous youth that are interested in pursuing music?
Whether it be music or another form, having the courage to take those chances is scary for sure but exciting. Sometimes, you may feel dreams are unattainable but if you keep at it you never know how far you can go. Life is exciting if you want it to be.
You currently work as a Cultural Clinician with the Kenora Chiefs Advisory. How can cultural clinicians help to foster reconciliation within the healthcare field?
I try to tread lightly as my experiences may not fit with other First Nation communities. My only suggestion to other clinicians is to continually learn about the First Nations people you work with. To honour their resilience, the people, customs, language and culture. This can be achieved by following the Grandfather Teachings of humility, kindness, and respect.